This report was published for the 1st time on StorageNewsletter July 6th.
The recent 35th edition of The
IT Press Tour
, this time operated online, has been the opportunity to virtually meet 13 companies and their executives around IT infrastructure and data management. Several of them launched products and did announcements.
Bamboo Systems

The firm, emerging ARM server vendor, introduced the B1000N Series with 4 independent server in 1U with 1 or 2 blades. A full 2 blades server embeds 8 nodes with 128 cores, 512GB RAM and 64TB NVMe SSD at 24GB/s read with 4 x 40Gb QSFP. It promotes a new metric for server with the energy consumption so kilowatt hours instead of processor frequency or CPU cores. The team promotes a new design named PANDA for Parallel Arm Node Designed Architecture. Future direction indicates a more dense serve going to 12 blades for 48 nodes.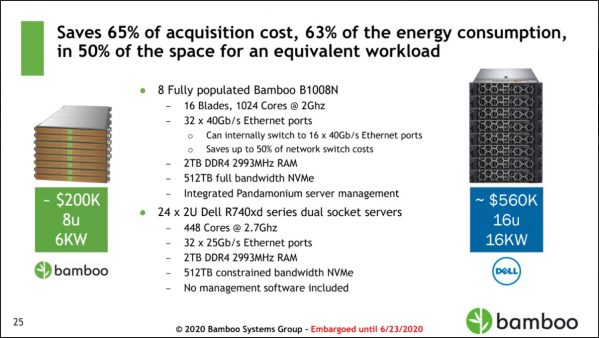 Fujifilm Recording Media
It reintroduced its Object Archive, known under this name in North America and Japan, and as Software-Defined Tape elsewhere. The idea is pretty similar to the VTL for tape libraries a few years ago but now the solution is more universal with a S3 interface. With the product, it introduces a new open source tape format named OTFormat (Open Tape Format) unifying metadata and data and supported from LTO7. The pricing model is based on capacity as a subscription grouping the software and LTO tapes for multi petabytes.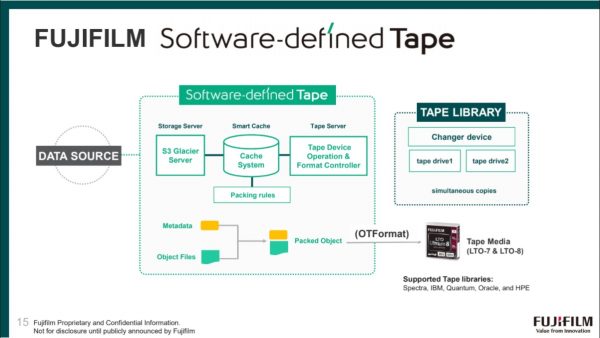 HYCU
it launched a Cloud Service Provider program fueled by Protégé. CSPs can promote the service as a co-branded solution for data protection, data migration and disaster recovery. Users can leverage the service to adopt a multi-cloud approach without any risk. Thanks to an open API, Protégé offers the capability to be integrated into a more global cloud based solution for managing data and infrastructure and finally deliver a consistent data management across different IT environments.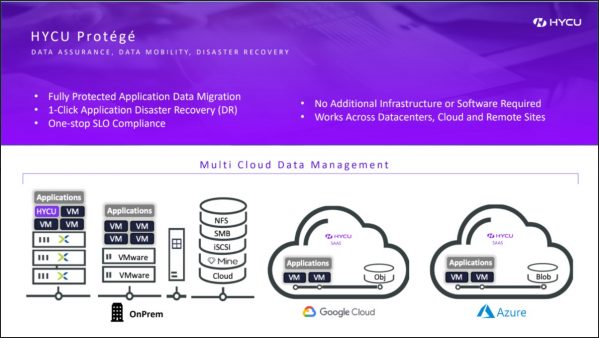 Kaseya
It continues to expand its product portfolio by acquisitions fueled by a rapid market penetration. IT Complete is very frequently enhanced and improved by adding new services in endpoint management, security, backup and DR, cloud management, audit and compliance plus a service desk and an automated IT documentation. For backup, IT Complete integrates Unified backup, Cloud Backup and 0365 Backup leveraging Unitrends and Spanning data protection technologies. Fred Voccola, CEO of Kaseya, said that there is a pending acquisition in the security space and the next big event for the company should be an IPO in 2021.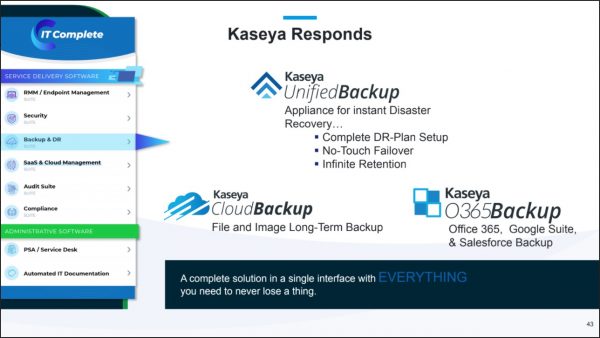 Nasuni
The company re-insisted on its product strategy and especially the enterprises aspect of it. Exposed as a NAS in central sites or remotes offices, deployed on top on object storage, it develops an internal distributed file system named UniFS. It is an internal file system as it is not visible by users but really is the cornerstone of the product. The file solution spans primary and secondary storage thus avoiding silos and complexity. The company is now an unicorn.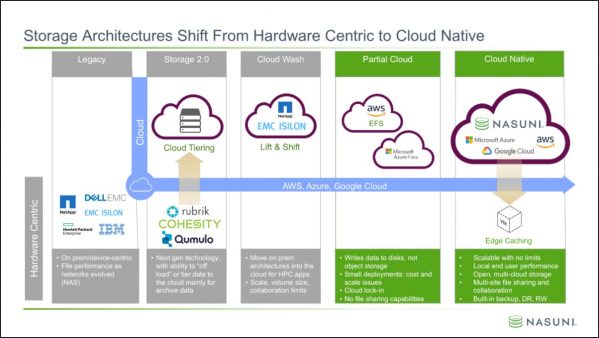 Nebulon
It launches its product, the Services Processing Unit (SPU), as a core of its Cloud-Defined Storage product (CDS) strategy. The SPU is a PCIe board designed to offload data services from central CPUs and can build clusters of 32 systems with this horizontal data centric model. The infrastructure is managed by a cloud-based application named Nebulon ON.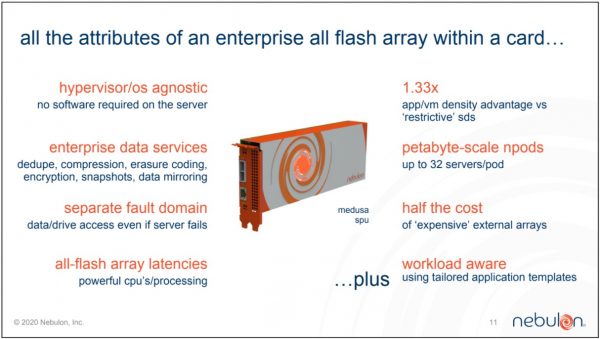 OwnBackup
Remember that Salesforce will stop its data recovery service July 31s, 2020. As the #1 backup and recovery solution in the AppExchange with 2,000 customers, OwnBackup introduced its Enhanced Sandbox Seeding offering to accelerate development, testing and training. The team also develops a Governance Plus package that leverages Etherum blockchain to prove backup integrity. Beyond backup, OwnBackup Archiver offers the possibility to restore archives directly from Salesforce.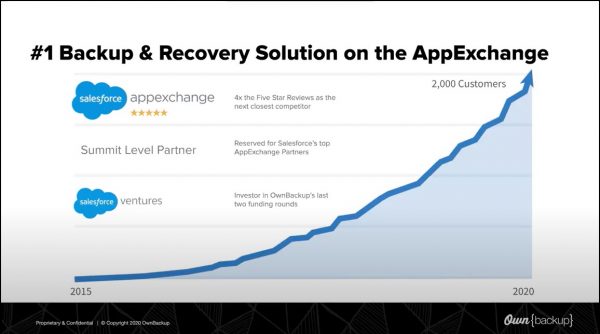 Pavilion Data Systems
It took time to pitch its positioning as the 3rd wave of storage fueled by a fundamental element i.e end-to-end NVMe. The idea of Pavilion Hyperparallel Flash Array (HFA) is to provide fast, dense – in 4U – storage services for demanding environments thanks to a very scalable architecture with 20 controllers for 72 SSDs and 40x100GbE ports.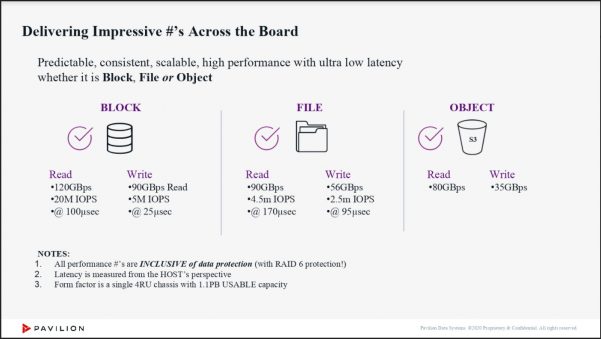 Qumulo
The firm launched its Shift product and unveils a strategy with the facility to move file data stored on Qumulo clusters, on-prem or cloud-based, to AWS S3. The idea is to leverage the ton of AWS applications which consume data through a native S3 connection. It offers to its users a way to subscribe to AWS, compute data with new services, while continue to operate Qumulo "classic" cluster in different places.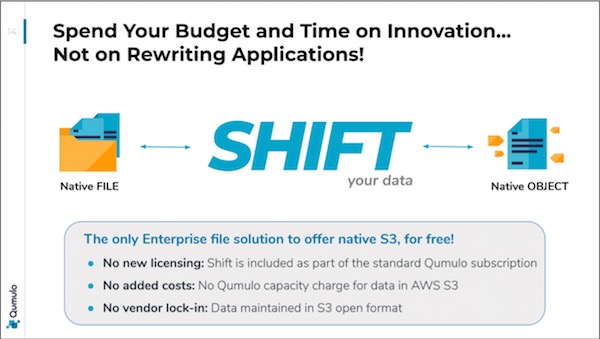 Robin.IO
It develops a cloud native platform to provide end-to-end automation for Kubernetes-based applications. From a storage point of view, Robin delivers snapshot and clones, QoA, replication, backup, data re-balancing, tiering, thin provisioning, encryption and compression. The company has found a specific niche, 5G networks, to deploy its technology with radio, edge and core sites.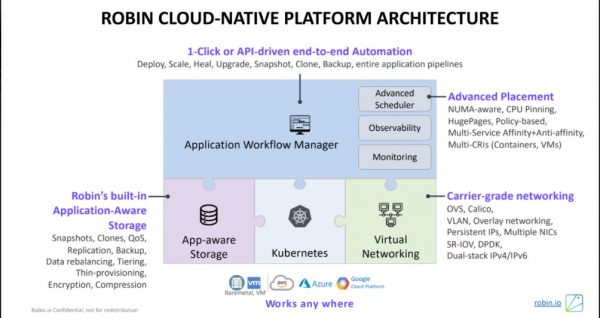 SoftIron
UK-based company leads the Ceph-based storage infrastructure wave with the design of its own appliance optimized for energy consumption and performance. Leveraging open source with a clear direction towards consistent performance at scale while energy is minimized with dense systems, HyperDrive targets demanding storage environments such research centers like the recent Sandia National Labs reference. Beyond storage, SoftIron has designed, developed and built 2 others products: HyperSwith based on SONiC and HyperCast for transcoding device based on FFmpeg.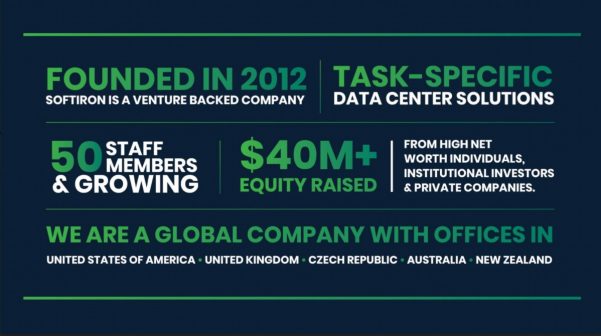 StrongBox Data Solutions
It continues to extend its data management solution with a second generation product, probably one of the most comprehensive in a very competitive market landscape. Dedicated to unstructured data management, it adds the support of LTFS and provide data movement/placement/copy/tier from any source to any targets as soon as the interface is a file, object, cloud or LTFS-based protocol. This product iteration represents a new dimension in the scalability aligned with high demanding environments needs.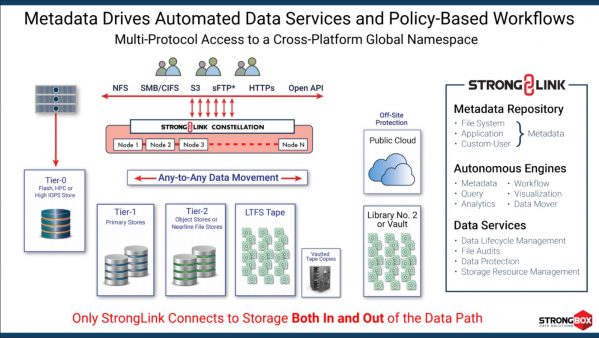 VAST Data
It reaffirmed its disaggregated shared everything architecture leveraging 3D XPoint with Intel Optane, QLC flash and of course NVMe-oF. The goal is to "kill" HDD with a full flash file storage solution for all tier and any workload. To achieve this, the team has developed a wide erasure coding and data reduction techniques to deliver an compelling $/TB.