The recent 33rd edition of
The IT Press Tour
was the opportunity to meet and visit 12 companies active in their respective markets segments:
Actifio
,
Commvault
,
Data Dynamics
,
DDN
,
HYCU
,
Igneous
,
Komprise
,
MinIO
,
Portworx
,
Scale Computing
,
StorCentric
and
VMware
.
Some of them did some products announcements, offer a company and products refresh, introduce new positioning and we learn some market news.
The first one is related to the SaaS backup wave, really hot on the market, that should be the next big battle in data management with established vendors extending their offering and new ones appearing. We understood during the tour that Veeam should increase its stake in Cobalt Iron being able to OEM its SaaS backup solution well recognized in the market.
Actifio
Actifio reserved a surprise with an introduction by Peter Levine, partner at A16Z, illustrating again the famous "software is eating the world" now morphed into "data eats software". Ash Ashutosh, CEO and founder of Actifio, insisted on the mission and the vision he had more than 10 years ago being the pioneer of the Copy Data Management (CDM) wave with an attractive RPO and RTO models.
All these activities with protected data start with a comprehensive data capture then these data can be used for many various usages. In other words, why let copied data just wait to be restored in case of data loss or failure on the production environment. Using these data for other key activities is a real opportunity: good RPO with near production state especially for near CDP mode, instant access to offer small RTO, several copies with timeline, ability to present data at a certain time, we name this a TAS - Time Addressable Storage - approach, offload production for specific tasks with rich data set: devops, analytics, security/threat detection or DR tests.
With Sky, CDX and Go, Actifio promotes a multi-cloud approach supporting AWS, Azure, Google, IBM Cloud, VMware, Oracle and Alibaba.
The company introduced 10c release - for cloud, container and copy data - as its new cloud-centric software platform for hybrid and multi-cloud CDM leveraging a new engine to cover several key data centric use cases. This new product iteration protects SAP HANA, ASE, DB2 and MySQL, NAS, Dell EMC, Pure Storage and IBM Storwize.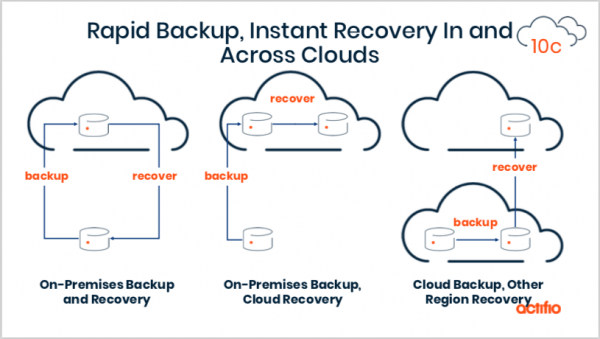 Commvault
Commvault reaffirms its directions with Hedvig acquisition and its SaaS initiative with Metallic driven by the energetic new CEO Sanjay Mirchandani. What changed for a few months at Commvault is the desire to play a role on primary storage in addition to secondary storage with a new vision fueled by its unified data plane mixing storage and data management. The acquisition of Hedvig, a pioneer of SDS, makes sense in this strategy and even beyond with the potential adoption of these technologies for its Hyperscale secondary storage platform and of course for primary storage use cases.
At the same time Commvault Complete Backup & Recovery continues to maintain its top position on the market. The Activate product offers the capability to better understand data landscape both on primary and secondary storage to optimize the data environment and master costs.
SaaS is hot and backup is for several quarters impacted by the SaaS wave with new offerings and players. Commvault
Metallic
, introduced during its recent GO conference, provides 3 editions: Core Backup and Recovery, Office 365 Backup and Recovery and finally Endpoint Backup and Recovery. Initially available only in US, sold via the channel under monthly subscription (the Core edition is at $200/TB per month), the product extends the Commvault experience in the cloud with a native product.
Just a surprise during this meeting organized a few miles from Hedvig office, nobody from Hedvig were present but 8 people from Commvault, pretty strange at least.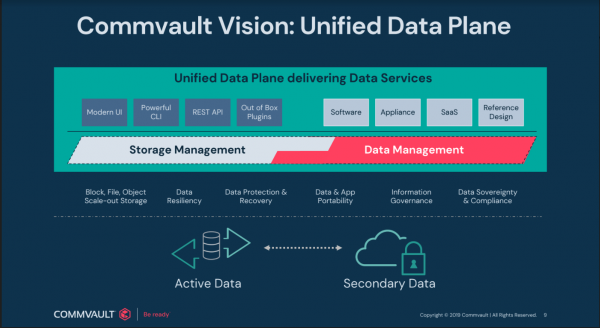 Data Dynamics
Data Dynamics has made significant progress for several quarters promoting dynamic data management with StorageX. Since the Infintus acquisition
announcement
a few weeks ago, the company has announced a partnership with Lenovo and introduced 2 product releases. StorageX will come back on NetApp global price list soon confirming its good adherence with the NAS vendor.
Cuong Le, SVP product and marketing, introduced a new positioning of the company around Collaborative Data Management fueled by the the capability to learn and leverage the content of files. The idea is to combine the content and the container of data to open data management to a new dimension for the enterprise. In fact, understanding the content of files offers new perspective in controlling files not limited to on external information such metadata even if they're crucial. Tiering cold and inactive data but also special files is possible with StorageX.
We invite the reader to check the recent
interview
with Piyush Mehta, CEO of Data Dynamics, that illustrates the company strategy.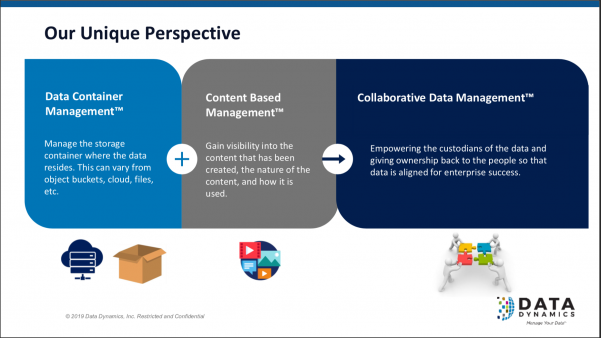 DDN
2019 is a special year for DDN with several acquisitions such Nexenta and IntelliFlash business from WDC confirming the enterprise strategy. This move extends Tintri and Whamcloud acquisitions made in 2018. DDN has now 1,000 people worldwide that marks a milestones for the company addressing needs in AI, multi-cloud, exascale and data management. With different storage flavors, use cases and technologies, the "classic" DDN is now promoted as the At Scale business unit dedicates to HPC, big data and AI and the enterprise business unit groups under Tintri brand VMstore, Nexenta and IntelliFlash.
At Scale focuses on Exa5, IME and A3I with a special insistence on Exa5 powered by Lustre. The coupling of Exa5 and IME delivers impressive IO/s and throughput results and we expect a cloud flavor of IME in 2020. DDN A3I initiative supports Nvidia DGX-1/-2 and the AI400X the SuperPOD Accelerator as well. A recent benchmark shows 400GB/s with 5 DGX-2 and 10 AI400.
Again we wish to mention here that the DDN strategy around Lustre and Exa5 is motivated by the company desire to have its own file system offering - it explains why Whamcloud was acquired - but also by the IBM Spectrum Scale licensing change for partners. In fact, DDN wishes to migrate all Spectrum Scale i.e GRIDScaler sites to Lustre and then control their own HPC file system destiny.
Recognized as a trusted brand, Tintri is now the umbrella for enterprise strategy focusing on intelligence infrastructure and AIOps. VMstore engineering group is maintained alone and Nexenta and IntelliFlash engineering teams are merged leveraging their expertise in ZFS. Clearly we can expect some integration and consolidation to potentially offer some software and appliance flavors between the two. Also NexentaStor will receive a S3 interface as NexentaEdge is stopped. A cloud-based predictive analytics is offered under the name Tintri IntelliCare. Tintri extends its IT workloads with database and the first one supported is SQLServer, wishing to apply same VM management model to databases.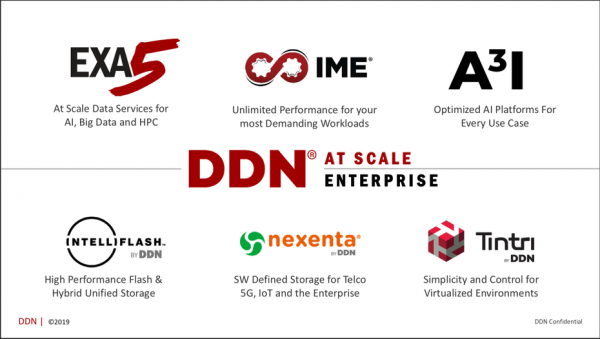 HYCU
Recognized as the preferred backup solution for Nutanix environment, HYCU has extended its portfolio to cover enterprise backup with a cloud-native multi-cloud data protection solution. It has confirmed the
announcement
of Protégé made in June 2019 during the 31st edition with its general availability. With 320+ partners and 1,200+ customers, the company accelerates and understands that the new SaaS backup wave is hot with aggressive competitions.
Protégé targets application consistency supporting multiple databases such MS SQL, Exchange and Active Directory, Oracle, SAP HANA, MySQL and PostgreSQL. New name in the industry, HYCU capitalizes on 25 years of experience having developed well known data protection product in the past under Hermes Softlab and Comtrade company names.
Protégé is agentless by design relying on API integration to manage and move data and offered as a Service.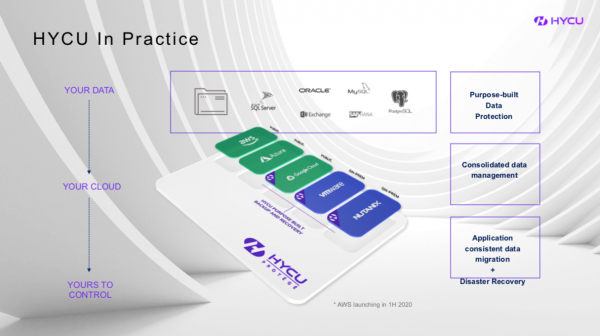 Igneous
Igneous doubles down on unstructured data management for NAS and file servers with a unique approach around 3 pillars: DataProtect, DataDiscover and DataFlow. Its solution targets 4 established visible brands: Dell EMC Isilon, NetApp, Pure Storage Flashblade and Qumulo.
The company argues that at scale their file analysis and backup technologies are the only ones to support large NAS environments with tons fo files without degradation. Three key components designed - IntelliMOVE, AdaptiveSCAN and InfiniteINDEX - are architected for scale and deliver unique performance capabilities, key for cloud integration and support.
DataProtect and DataDiscover as SaaS are available on AWS and Azure marketplace and supports GCP as well. To address cloud cost, the engineering team has built IntelliMOVE to reorganize data ingestion and expiration method with high level pf parallelism, inline compression, compaction of data chunks and intelligent expiration.
The second product DataDiscover uses AdaptiveSCAN able to scan network file system at 400,000 files/sec./task rate. It is under redesign and will be relaunched in 2020.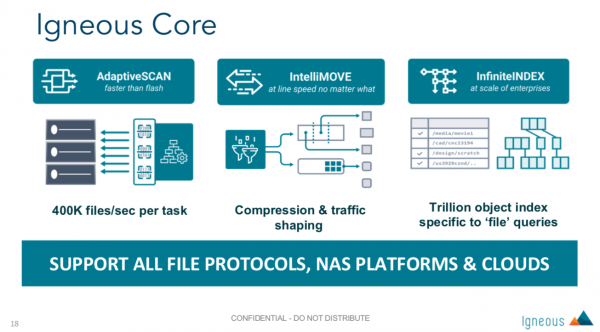 Komprise
Komprise confirms recent announcements made during NetApp Insight and AWS re:Invent respectively an extended support of NetApp storage devices and S3 to S3 migration and cloud data growth analytics.
The firm presents 3 key attributes: dynamic data analytics providing very rapid file analysis environment, transparent move technology and direct data access without any impact on applications.
The company continues to focus on the offloading of cold or inactive data from primary file servers and NAS with secondary filers or object storage, both on-premises and cloud-based, maintaining transparent access for applications. The product rebuilds the exact primary file hierarchy on secondary filers and even maintains same protocols i.e NFS to NFS, SMB to SMB file movements and guarantees file access thanks to symbolic links.
The sale strategy relies on 2 majors resellers agreement with HPE and IBM and co-sell with the Pure Storage, Cloudian, NetApp, Dell EMC, AWS, Azure and Google Cloud.
Last announcement covers the cloud data growth analytics integrating Amazon EFS, AWS S3, S3 IA and Glacier.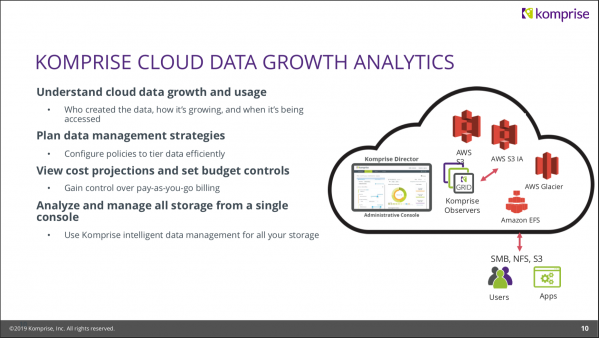 MinIO
MinIO continues to lead the object storage segment by adoption proven by almost 290,000 docker pulls. It is a rare solution, purely software and 100% open source, that can be deployed for primary storage delivering high performance with deep integration with Kubernetes. MinIO success explains the failure of other vendors as the product is probably the #1 deployed object storage solution from small companies to large, very large corporations. On Fortune100, 84 use MinIO and Apple is running several big instances of MinIO.
The adoption is also driven by partnerships and integrations such Datera, iXsystems, MapR, Nutanix, Pivotal, Portworx, Qumulo, Robin, Splunk, VMware or verticals solutions such McKesson or Cerner to name a few.
Among top features and use cases from MinIO, we notice big data/machine learning, HDFS replacements, high performance datalake, cloud native applications with Kubernetes integration replacing file and blocks models, multicloud portability, streaming workloads, archiving and DR. Written in GO with some core parts in assembly language, MinIO is super fact and recent benchmarks are impressive with HDDs or NVMe.
The company has recruited a new VP business development, Kris Inapurapu, to accelerate market penetration.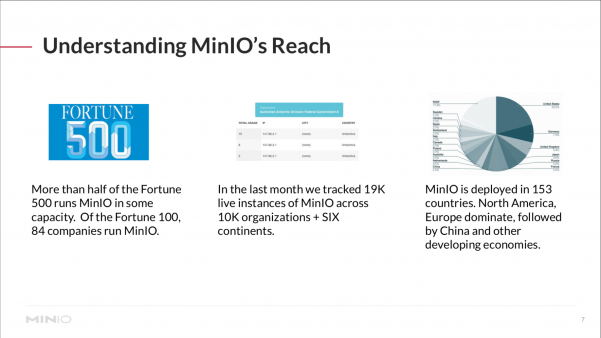 Portworx
Kubernetes wins the game and all other attempts suffered from its adoption explosion. Portworx is one of the leader in persistent storage for container. Company's mission has been extended to offer a comprehensive storage solution for containers. Portworx strategy has been extended to offer the Portworx Data Platform for Kubernetes (DP), providing fundamental storage, HA, BC-DR, backup and migration services.
Portworx DP runs on any Kubernetes platform and supports any storage hardware meaning that it is at container what Veritas Volume Manager aka VxVM was for Unix/Linux OS and more recently VMware vSAN for server virtualization.
Container and Kubernetes make real what all business consider everyday, the machine is not longer important but the application is crucial, so IT architecture and services have to be designed around application services. The main idea is to run applications as reliable and ubiquitous services able to run anywhere on any platform, on-premises or cloud, aligned to needed SLAs.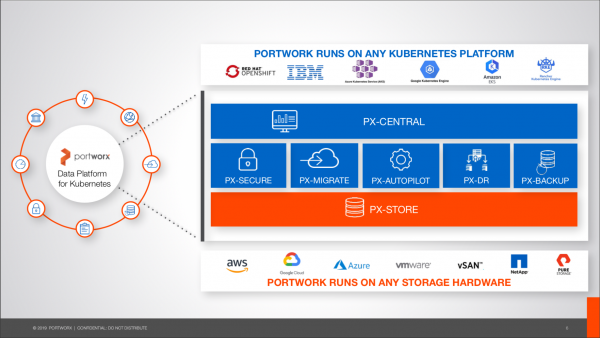 Scale Computing
Scale Computing, leader in HCI for SMB, continues to penetrate the market at a rapid pace. Today the company has more that 10,000 systems deployed with strong partnerships with Lenovo, NEC, GCP, APC, Intel, BCDVideo, Parallels and Leostream.
HC3 represents a real alternative to other markets offerings with interesting features and innovations such SCRIBE (Scale Computing Reliable Independent Block Engine) and EdgeFabric. SCRIBE is unique grouping all nodes storage entities, HDDs and SSDs, to form a global shared block storage pool visible and accessible by any nodes in the cluster, protecting by a RAID-10 mode. SCRIBE is not running as a virtual storage appliance or controller VM.
HC3 Edge is a new iteration addressing needs for IoT, micro-datacenters or packed and embedded servers with several new developments as edge computers have less resources globally. The last model is HE150 based on Intel NUC delivering 3 nodes for less than $5,000. The company has developed EdgeFabric, a P2P network to connect all nodes within the cluster and replace the necessity to connect nodes to external "big" switch not available at the edge. With EdgeFabric, only a small switch is needed extended by this node to node connection and reducing the final cost of the entire solution. An interesting innovation that differentiates HE line form the competition.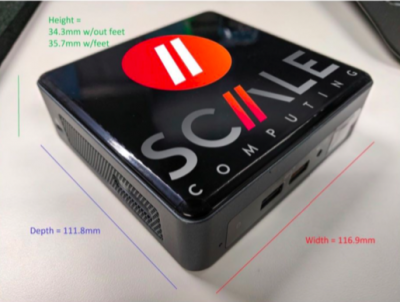 StorCentric
StorCentric is a recent company acting as an umbrella of Vexata, acquired in July 2019, Nexsan in August 2018, Drobo in May 2015 and Retrospect in June 2019, all these 4 representing its portfolio. We expect more acquisitions in 2020.
Following Vexata acquisition, we notice that the CTO and COO of StorCentric come from the all flash vendor, wishing potentially to position the vision and the development towards enterprise solutions.
We also understand that the cross/up-sell model is strong at StorCentric with one million customer worldwide and the idea to promote each product from its established channel. At the same time, the partnership signed with Fujitsu by Vexata continues and be even extended. For just Retrospect, 500,000 software licenses were sold and 400,000 customers trust Drobo. The next obvious strategy would be to unifiy, merge and integrate products and features across the line and leverage all good functionalities in each product.
Clearly Nexsan represents the core of the product line being present from tier-1 with Unity, tier-2 with E-Series to archive with Assureon, Vexata positioned for the high demanding applications.
For the future, Drobo will received additional flash drives and 10GbE ports, Retrospect will protect Office 365 and G Suite, we expect also a backup appliance coupling Drobo and Nexsan back-end, Nexsan Unity and Assureon will be available as a full software flavor with NVMe SSD and QLC NAND, the archive product will be deployed as a cloud-based entity, and Vexata will receive QLC NVMe NAND as well. StorCentric plans to unveil a few product iterations in Q1.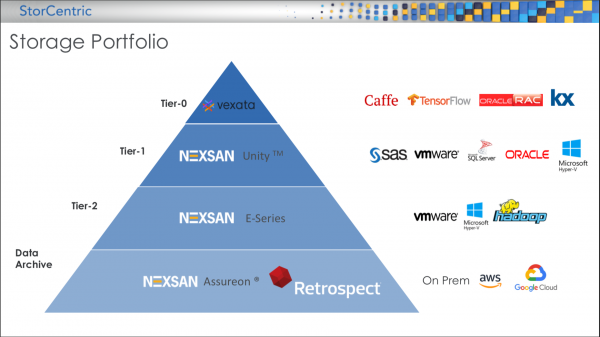 VMware
VMware, the leader in server virtualization and HCI, spent time to cover its HCI and Kubernetes strategy, promoting HCI as The agile infrastructure. Having 20,000+ vSAN and 300,000+ HCI customers, we immediately understand the headroom for the vendor's HCI solution, articulating a real hybrid cloud approach thanks to its Cloud Foundation solution. This strategy aims to address a natural erosion of on-premises server deployments and the acceleration of container-based it environments impacting directly the company results.
VMware continues to confuse the world with slides different from its web site. On its web site vSAN belongs to Hyperconverged Infrastructure page and not in the storage one and HCI page doesn't mention vSphere. From what we understand, VMware Core HCI equals vSphere + vSAN. Probably products can be added on multiple pages.
At the same time VMware has to rapidly react from the cloud service providers attack, the cloud adoption and the rapid applications move to the cloud. It's a 2 fold tactics, first is about making available VMware on cloud service providers making easy to enterprise to move their workloads to AWS, Azure or GCP and even others and second it's about embracing Kubernetes, the de-facto leader for datacenter orchestration service. This trajectory means project Pacific, rewriting and rearchitecting vSphere to be native Kubernetes, but also Tanzu portfolio with Mission Control to manage Kubernetes clusters, Pivotal, PKS and Bitnami integrations and services.
The strategy for VMware is pretty obvious wishing to become a key Kubernetes player for hybrid cloud IT management to run any applications on any clouds still based on VMware Cloud Foundation and elemens such VMware Cloud on AWS...
2020 will be interesting with M&As and real innovations already planned.